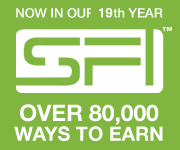 Just like many of the cautious online people who have ever fallen victims of scams while searching online for the reliable internet income/job opportunities, I was very reluctant to join SFI for several times when I was presented by the opportunity but dismissed it casually without taking a keen look at it, for it displayed the earning opportunities that looked too good to be true.
What exactly is SFI all about?
SFI is an internet marketing platform affiliated to tripleclicks, the vast online shopping store with over 900 different products on its listing for sale. It has been successfully operating for the last 16 years and due to its reliable service and satisfaction to the members, SFI has been able to recruit millions of users and still growing strong each day.
Who can benefit from SFI?
SFI offers a vast range of services and thus anyone with the basic skills in using the internet is eligible to benefit whether directly or indirectly. The product manufacturers for instance, who would like to increase their sales through internet marketing, stay at home mums and retired people who would like to generate the second income, the list goes on and on.
How does SFI compensate the members?
As members of SFI, one is deemed to be the affiliate of the platform and thus is entitled to the share of the commissions earned by the sales generated on tripleclicks whether directly or indirectly.
The SFI members are the automatic E-commerce associates (ECAs) of trypleclicks and thus are able to shop online from tripleclicks at a rebate and still earn commission of 45% on the products that they need.
By referring the sales, the ECAs would be credited with 45% commission on every purchases made through their sales leads.
As a member of SFI, One doesn't need to buy anything in order to earn commissions, like other internet marketing/ multilevel marketing platforms (MLM) do. It all starts by collecting versa points, earned by performing different simple tasks on the site.