Tag:
crochet toys
1. Cat tunnel!
OMG. A cat tunnel (more…)
categories:
Amigurumi
,
Crafts
,
Crochet
,
DIY
,
Free
,
Free Patterns
,
Inspiration
,
Project
,
Projects
,
Tutorials
,
Tutorials and Patterns
,
Tutorials, patterns, free,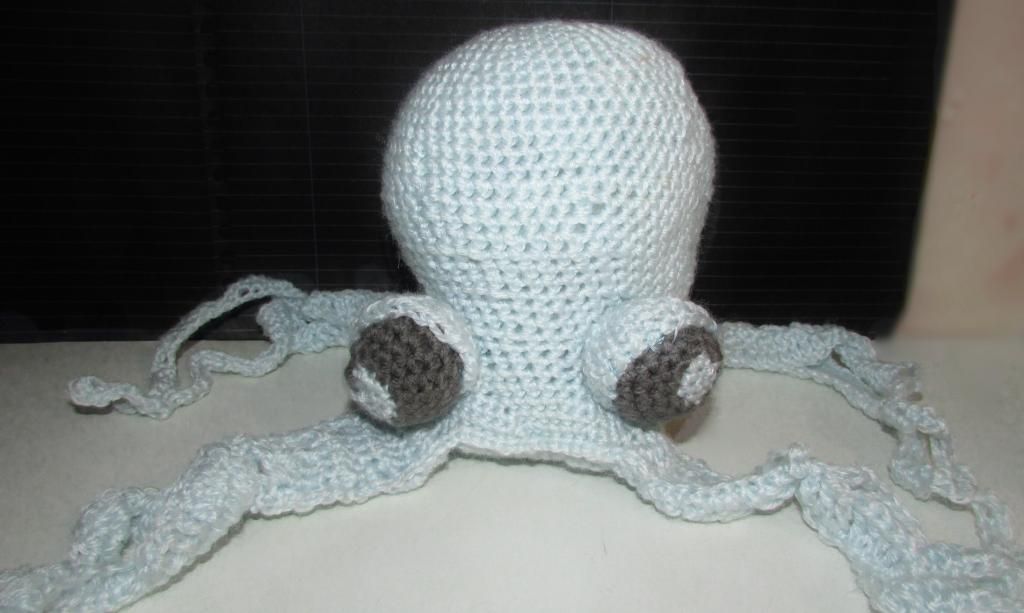 I've added a brand new project to my to-do stash and am actually quite proud of myself for completing it in a somewhat timely manner. This is the octopus I finished just in time for Christmas, and finally had the chance to share him with you guys.
As a matter of fact, he was featured here on Crochet As You Are in one of the recent posts. I thought he was so cute I had to hurry up and make one myself. He is available on Joann as a free pattern, but in order to complete him in a timely manner, that required some tweaking to the size for my own octopus. I also tweaked mine to only use two colors instead of the multiple colors the pattern actually calls for.
I went for simple, so you don't necessarily have to follow the exact same amount of color changes the pattern calls for. I do recommend using contrasting colors for the eyes, though or else it might look odd. 😉
Another thing that should be mentioned is that the original pattern contains mistakes, so if any of my lovely, fellow crocheters want to create an octopus of your own, I recommend heading over to Gleeful Things where Julie has kindly laid out her own notes for you so that you can avoid the mistakes you'll run into if you only follow the original pattern. So, bookmark her page or print out the instructions she gives and then begin the octopus from the original pattern. You'll be glad you did, unless you don't mind the mistakes, and ending up with a 4-legged octopus! Technically it's an 8-legged octopus, but if you go the route I did with him, you'll end up with what appears to be only 4 legs, split at the very ends.
Take a look at the photos to see what I mean. I chose to sew my octopus' legs all the way to the near bottom that way he ends up with more curl to his legs and it kind of distracts from the fact that he has 4-legs total (8 technically, but not if you sew the entirety of each leg up from top to bottom.)
All this leg talk probably will not make sense to you until you've taken a close look at the photos and the pattern for this octopus.
Overall, though, this really wasn't too complicated to complete. The instructions can be a tad confusing, but most crocheters will probably be able to follow. I just wish I'd have caught the printed mistakes before I started crocheting! I still think he turned out okay since I'm no perfectionist, but if you are one, the legs will probably be a real bother to you until you get them just right, so don't take any chances and be sure you follow Julie's instructions for getting past the mistakes.
I just love her color combo for the giant octopus she created!
While on this octopus kick, I came across severely really cool patterns for different octopus, and later wished I'd have chosen one that did not contain mistakes. I thought I'd share my octopus results with you here and also include patterns for a couple of different ones available online for free! Yay for the kind folks willing to give their awesome free patterns, right?
Below, I've listed a couple of the free patterns for octopus that I've found and think are mighty cute, so you can choose from more than just the one pattern here.
1.Free Octopus Pattern by Paula Gail

I think the one by Paula Gail is stunning, and appears to be a bit more simple than the one I went with. I've actually been hoping to get this one going sometimes on, too! What a interesting yarn color she chose.
2. Mini Octopus by Sarah from Esshaych


These perfectly miniature octopus are much smaller than the first one pictured in this post, but equally adorable octopus are probably going to be a great option if you want to crochet an octopus in a short amount of time.
Aren't they adorable? I know I can't seem to resist them, and will more than likely be crocheting one or more myself! I am counting down for the moment I can start on one.
And lastly, here's one more mini version Baby Octopus Amigurumi Pattern by Amanda at Adorably Kawaii

So, which of these adorable little fellas will you be crocheting? Please do share your project pics with me, too!