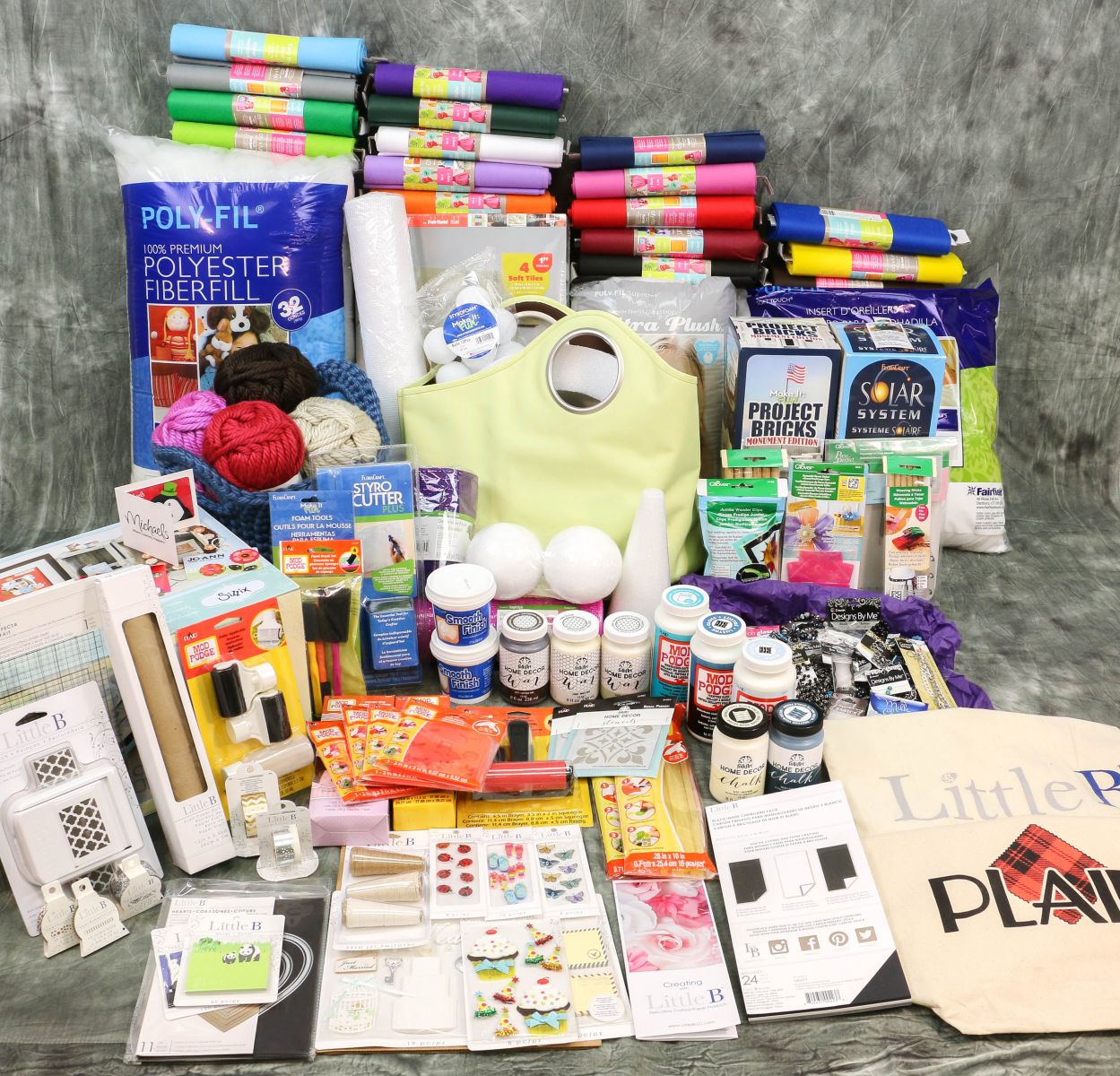 FaveCrafts is like the ultimate online hangout for crafters. I've been quite the diligent subscriber to them due to their continous free patterns they offer for knitters and crocheters. Not to mention their array of projects and ideas for every other craft on the planet.
While I spend a lot of time browsing the FaveCrafts website, I don't often enter the giveaways they feature. Mostly because I've never won anything in my life, and usually don't have time to really get into entering any giveaways.
However, FaveCrafts feature some really amazing giveaways, and sometimes when I have spare time on my hands, I find it impossible to pass up entering. Particularly, the huge craft supply giveaway they have running right now.
The Ultimate Craft-tastic Grand Prize Giveaway includes craft products from the following brands: Fairfield, SpinRite, Clover, Sizzix, Little B, Simplicity, I Love to Create, DOW Chemical, Plaid, Cousin, FloraCraft, and Stencil1. Talk about a giveaway worth entering!
Head on over to FaveCrafts right now to enter the giveaway yourself, then you can come back to finish reading this post, if you want to.
The deadline is February 28, 2015, but you can enter the giveaway once every single day up until the deadline!
You can also earn extra entries by sharing the giveaway on your social media sites, as well as an extra entry by featuring the giveaway on your blog, like I'm doing right now. 😉
If you're a subscriber of FaveCrafts newsletter, you'll be notified of their bi-weekly giveaways via e-mail, so you can enter the giveaways as soon as they go live. I subscribe and get their newsletter to check out their free patterns and craft ideas every week, and that is how I knew of the giveaway that's going on right now. For some reason, this time, I felt compelled to enter this one, and perhaps I'll manage to find time to continue entering their giveaways from now on. Just the thought of winning a craft supply giveaway as ginormous as this one is enough to get my heart rate up a little!
Winning this kind of giveaway would really have any crafter all set for all kinds of new crafting adventures!
To see a list of all the giveaways running by FaveCrafts right now, you can click here and go through to find the giveaways you want to enter, if you would like to enter more than the one giveaway.
Being a lover of crochet, knitting, beading, and many other crafts, I basically stalk FaveCrafts everywhere online. I find a lot of awesome, free patterns and inspiration from their Twitter posts as well, so if you're like me and want more, you can follow them there, too.
Now that my entries are all in, I'm going to take a crochet break myself. I'm working on yet another garment at the moment. I've only gotten as far as the chains so far! But will be starting the first actual row any minute now! Wish me luck. I'm really hoping this one turns out stunning.
Do you guys enter giveaways? Craft giveaways only, or do you enter all sorts of different ones? Have you ever won anything? I'd love to hear your stories! Also, if you guys know of other giveaways going on, go ahead and share those with me, too, if you like.
Oh, stay tuned for a post I'll be doing on a shawl I'm currently knitting (yes, I'm working on two projects at once.) I'll be uploading photos of the finished Io Shawl from Willow Yarns, and will also be doing a review sometime very soon (when I can finally finish the shawl.) The pattern has been the most frustrating, complicated knitting pattern I have yet to attempt, so it's a slow-go, but I'm doing my best to get the beauty finished so that I can feature it here as soon as possible! I hope you'll stay on the lookout for it.