Don't underestimate crochet's widespread effect and adoration. Virtually everybody and their mama have owned or do own a piece of crocheted work whether it's an afghan or a sweater.
While crochet and knitting and most all yarn crafts do have somewhat of a "grandma" reputation, I feel like the crafts aren't always given the credit they're due, and I'm pretty sure my fellow crafters would agree. I mean, you spend 6 months working on a small throw or a sweater. Knitting and crochet both require a serious amount of time and work, and not to mention all the brain work that goes into it.
But this is not a rant about the time and effort that goes into creating something with two sticks (or one hook), your hands and a tangled ball of yarn. I'm not here to convince everyone to dig out their old, itchy sweaters handmade by grandma (or the memories of said itchy, old sweaters) and start wearing them again with a newfound, but itchy appreciation. If you can't appreciate a hand knitted or crocheted item, then that's totally fine! I think sometimes us yarn crafters tend to expect everyone to be able to love and value our craft, but the truth is, some people simply don't dig it, and that's okay.
I am one of those folks who don't have an eye for art. I look at a painted canvas and my mind starts slowing down. I still appreciate the time and effort that the artist put into their work, but I am not likely to want to hang it on my wall or wear it just because. So really, the same applies to me and my yarn works. I have to remember that not everybody has an "eye" for what I create, and I can be okay with that. I just have to remember it.
That aside, what I actually wanted to discuss is that crochet and knitting might be under-credited crafts when it comes to the reputation it gets. People always think granny when you mention knitting or crochet, but if you look around, the crafts are so amazingly timeless!
Knitted and crocheted items have literally seeped into every corner of the world, every culture and even most categories of shopping. In fact, the granny square is alive and well, even at the start of 2015, the granny square is still being seen in the form of garments and afghans.
In fact, just today (January 2, 2015), I flipped open W Magazine — which is being sent to me unsolicited despite my pleading with the senders to stop wasting paper and resources to send me magazines I never even want or read — and there was a red-headed woman dressed in a funky printed dress with a red, black, and white granny square tank top snugly over it. (MiuMiu)


So these timeless crafts are still as big as ever in our world, and here most of us yarn-crafters were thinking we were some of the only folks left on the planet who ran around with needles, hooks and a ball of yarn in our hand (or for some of us, purse).


Crochet and knitting shows up on the runway more often than chiffon. The holiday season always brings new fair aisle sweaters in a brand new color combinations to greet our eyes as many designers crank out new designs and patterns.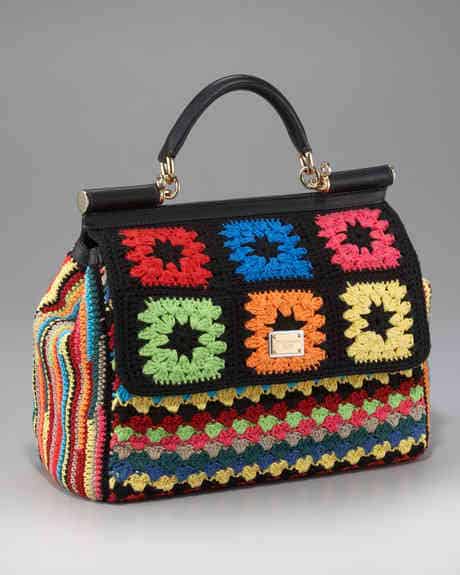 Let's face it, as far as knitting and crochet, those crafts are here to stay!