How to change themes?
Mobile Version
This is another beginner's guide as a continuation of my previous blog about creating a site. You should post first your blog or
blogs
so that when you start choosing themes, it will be easier for you to decide which theme you're going to use because you can already see how it really looks with your contents on your site.
Unlike what just happened on my first site before. After creating a site, I jumped on choosing themes already. It also took me so long to decide what to use and finally chose the theme with Cute Frames because the frames or borders for the blogs are so cute. Then I tried to post my first blog which is a food recipe of spicy eggplant with sardines. I thought my site will look the same like what is shown on the featured image of themes but when I checked my own site, It's all different. Where are those cute frames? Those cute frames became plain rectangles already until now. So I have to choose another theme again. I only wasted my time for that. And I don't want you to experience that so before choosing themes, post your blogs first. After you published your blog posts, you can already try to change your themes.
How to change themes?
1. Go to your site's dashboard and click the button between the key and paint brush buttons.
2.Next, click Themes.
3. Then you will be redirected to your free themes powered by wordpress and ready to install in your sites. Just scroll down and try any theme you want.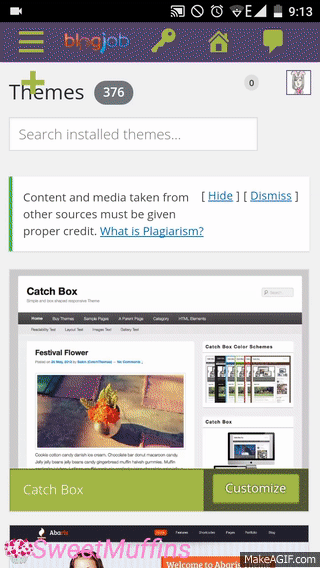 4. For example, you already chose a theme for your site. Click Live Preview.
5. Then click customize if you want to edit or add more widgets on your sidebar and edit the header or bottom of your site. Then click the Save and Publish button.
That's it! You already installed your new theme to your site. Hope you got this easy steps. Just let me know which is not clear. 🙂
Related articles