Category Archives:
Writing
Blogs Should Be Written in Standard English
I belong to a lot of blogging groups and networks where people share links to their blogs with the hopes that other members of the groups will read and comment on the blogs and share them on social media. I do a lot of that. There are many people I really like and would like to help by sharing their work, but I can't. Most people on my Twitter networks are professional people – teachers, authors, professional bloggers, and others with college degrees.
No matter how clever or interesting I find a blog to be, it would not be appropriate to share something that is full of grammatical errors with that audience. If I were to share that sort of blog, I would lose followers. People will make allowances for the kinds of errors made by those who are writing English as a second language if their native tongues have a much different structure than English. Many foreign students who have graduated from American universities still have not mastered the parts of our language that have nothing comparable in their own.
Example: My husband was born in Serbia and grew up speaking Serbian. After graduating from UCLA and speaking English here for over fifty years, he still cannot always use a, an, and the properly because his native language doesn't have any comparable words before nouns. Americans just naturally say "The house," "an apple," etc., because they grew up hearing it. My husband would say "I bought loaf of bread" or "I ate apple." That sounds strange to American ears, but it has the same effect on an American native listener as hearing someone speak with an accent.
What doesn't go over well with those who speak and write standard English is reading blogs and articles that any high school English teacher, and I was one, would have marked with a lot of red ink. There are certain mistakes that high school graduates should not be making, and many bloggers I read from groups I belong to make those errors.
Common Mistakes I See that You Can Fix
Use Irregular Verbs Correctly
One error I see frequently is misusing verb tenses. One of the most common is writing or saying "I seen" instead of "I saw." "To see" is an irregular verb. Regular verbs form the past tense by adding an ed or a d to the end of the verb. Example: I remember becomes I remembered, I cook becomes I cooked. Some verbs, though, form their past tenses differently, and you just have to memorize the correct forms.
Here is a list of the most frequently used irregular verbs. This resource also explains the forms and how to use them. I suggest you check it out if you make any of these mistakes.
To use to go properly in all three tenses, one would say I go (present tense) or I went (past tense) or I have gone (past participle). It is a mistake to say "I gone to the store." That is using the past participle form as the past tense. It is the same mistake people make when they say "I seen it" instead of "I saw it" or "I done it" instead of "I did it."
Most American-born English speakers who make these mistakes make them because they hear verbs used this way at home and among friends and this usage seems normal to them. It is not what they were taught in school, unless their teachers also grew up hearing non-standard English. To be taken seriously as a writer or blogger in English, though, you need to write standard English.
I'm not suggesting that you try to memorize the names of the parts of speech. I am suggesting you look at the chart and practice using the tenses properly. Every day, practice reciting the proper forms out loud several times until they seem normal to you. Here's a list to practice:
I was. They were.
I came. He came with me. They came later.
I did it. She did it, too. They did it all the time.
I drank a glass of water. She drank milk. They all drank lemonade.
I went to the store. She went alone. They went crazy. We went to the movies.
I rang the bell. He rang the bell. They rang the bell.
I ran away. He ran after me, We ran for twenty minutes. They ran a mile.
I saw the show. She saw the dog run down the street. They saw a bank robbery. We saw the new baby.
My sweater shrank. The clothes shrank.
I swam across the river. She swam behind me. We all swam in the new pool.
If you learn these and use them correctly, you will be taken more seriously when you speak and write than if you use them incorrectly. If the sentences above sound strange to you, you need to practice them until they don't.
Don't Make Sentence Errors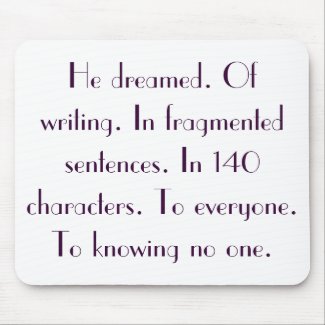 Sentence errors definitely will keep people from taking you seriously as a blogger. They indicate you haven't mastered basic writing skills, since the most basic element in writing is the sentence. Some bloggers who have great content make it unsharable by writing in sentence fragments, comma splices, and run-on sentences. Their writing looks something like this.
I love my dog he is so loyal. His giant appetite makes it impossible. To give him enough food to keep him satisfied. He's always wanting to go for a walk. By the lake next to the park. When it rains and it's muddy out. He tracks mud back into the house. Yesterday we went for a long walk, we got very muddy.
I think you get the idea. That paragraph contained all three kinds of sentence errors. Did you spot them? Learn more about sentence errors and how to fix them from this video. If you haven't the patience to watch the video, the content is written out below it. If you want a simpler video, try this one, which is a bit more fun.
If you still have questions or need more information, this is more complete.
It's Worth the Effort to Clean Up These Mistakes

If you want people to share your blog posts with their social networks, you need to make sure you have mastered writing standard English. Proofread your work carefully to make sure your sentences are complete and are not run-on sentences or comma splices. Get yourself a good reference book on writing and English usage and grammar. I personally use Writers Inc, an English Handbook that is very user friendly. It tells you everything you need to know about how to write in standard English.
Only you can decide to improve your skills. You can continue to be read only by your blogging friends who are more interested in what you say than in how you say it, or you can polish your skills and expand your audience. The choice is yours.
Related articles